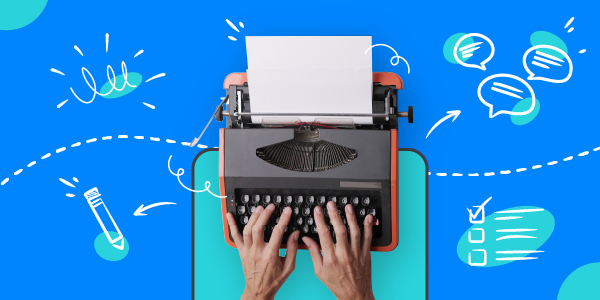 Content writing has become an essential piece for the promotion of most businesses. However, the role of the copywriter has also been getting more attention lately and a lot of people question how these two positions differ. Although they serve different purposes, both are used in digital marketing and definitely needed to build a successful and strong brand.
If you use digital marketing to promote your business, it is good to understand the differences between a content writer vs copywriter, to help you hire the right people for the roles. Worry not! This post will clarify the scope of work for each and how they differ from one another.
What is a Content Writer's Responsibilities?
A content writer creates text content that informs, educates, and entertains readers through valuable and high quality writing. Content writing usually includes blog posts, newsletters, e-books, articles, and case studies, and these are expected to drive organic traffic to the company page.
Ideally, a good content writer should be an expert in online communication and SEO. They should know the keywords and topics that should be highlighted in the content to increase traffic, attract the right audience, build brand trust, and pave the way for a sale.

What is a Copywriter's Responsibilities?
On the other hand, a copywriter creates text content to convince readers to purchase or take some type of action in relation to your sales process. This text content is usually displayed around the product pages, social media ads, sales email, and other website sales copy. The tasks of a copywriter typically include:
Develop the company's content plan, including the most relevant keywords.
Define the communication strategy, tone, and style of the brand (requires market and competitive research).
Write and correct all kinds of copy for websites, landing pages, social media posts, email marketing, and other ads.
Editing and proofreading, including spelling, grammar, style, and a bit of SEO.
Just like many other digital professions, there is no official title that qualifies a person to be a copywriter. Instead, profiles with these skills are sought:
Writing. Robust writing skills are essential for copywriting. A good copywriter has excellent spelling and grammar, knows how to structure texts that promote a nice flow, and knows when to use different stylistic approaches to achieve the desired effect.
Creativity. Coming up with copies that "spark", allowing the product to appeal to the right target audience.
Digital Marketing. In order to produce texts suitable for each channel, from a sales page to a Facebook ad, a copywriter must have good digital marketing knowledge and know how to align different initiatives between different marketing channels.
SEO. When writing for the web, the positioning factor is fundamental. A copywriter doesn't have to be an expert in SEO, but he does have to master keyword research and its use in texts.
Differences between a Content Writer and a Copywriter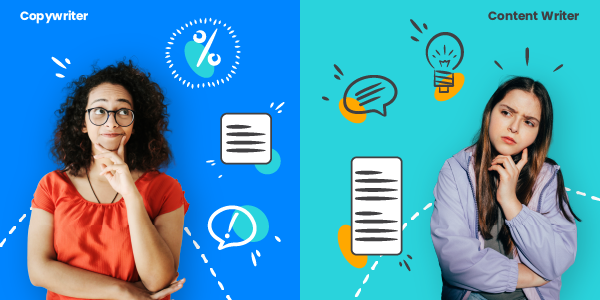 Purpose and Way of Writing
The content writer is mainly in charge of creating texts that teach, inform, or clarify something about the sector of the corresponding company, such as a novelty in the market or a new service. The goal is to get the person reading the text to get as complete and reliable information as possible and consequently establish trust for the brand.
The copywriter is in charge of writing content that attracts users or customers and convinces them to contribute to the business, such as purchasing a specific product or service.
Length
Because it focuses on informing and educating readers, content writing is typically longer than copywriting. You might only need one or a couple sentences to sell to customers and create successful copywriting, whereas content writing might require longer text, usually between 500 to 2,500 words per piece, to make it valuable to readers.
SEO
Content writers are typically hired to drive inbound and organic traffic, hence content writing is generally more focused on SEO. Stellar content writers are experts at SEO and can help you pick the relevant and popular keywords for your business to up your traffic.
Content writing is better for SEO than copywriting due to its high value to readers, purely informational content (not promotional), and longer length which can help rank for more keywords.
Emotions
Unlike content writing, copywriting tends to invoke emotional responses, such as pride, fear of missing out on promotional benefits, instant gratification, and more, compelling users or the audience to buy a product or service. These emotional responses can help with attracting users to take immediate action, which is typically the goal of copywriting, whether it's to buy a product, download something, or sign up for a free trial.
Meanwhile, content writing is less on emotions, and more towards reliable information. Content writing is used to build brand trust and position itself as a reliable source of information.
Short Term vs. Long Term Strategy
Copywriting convinces users or the audience to take action right now. Conversely, content writing must be built overtime for you to really see the results and how it pays off; it contributes to a long-term strategy.
While copywriting tries to sell the product directly, content writing lays the groundwork for future sales. Blogs and articles have staying power that continues to pay off over time, compared to ads or emails.
Conclusion
Content writers and copywriters have different responsibilities and expectations, but are equally important spearheads in driving the brand awareness and trust of a business, which relates directly to sales. Therefore, it is imperative for a company to understand the differences between the two, and hire the appropriate talents for these roles.
One of the fastest and most effective ways to get the best content writer and copywriter services is to use a talent search engine like Shortlyst. With collaborative features and multiple platform integrations, Shortlyst is the best sourcing tool for recruiters to identify talent without a hassle and allow you to engage with them at scale. Get a free trial here.