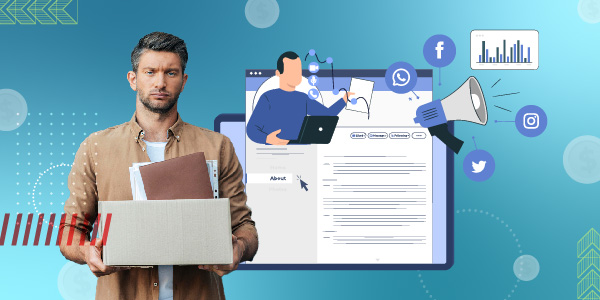 The dynamic in the workplace can present unexpected challenges, but one issue that weighs heavily on many employees is the prospect of being laid off. While it may seem daunting, it's important to remember that a layoff doesn't necessarily reflect an individual's abilities or performance. Instead, companies often make a tough decision to reduce costs or address other priorities. By staying informed and prepared, workers can navigate this reality with confidence and optimism. Therefore let's talk about some helpful information that may come in handy if you find yourself facing a layoff.
List Any Benefits that You Receive from Your Job
If you have been laid off, it is important to request certain documents and other rights from your former employer that could impact your ability to obtain future employment. These things include:
 •  Severance Letter
Typically, the company takes care of severance pay matters, but if they don't provide a letter, don't hesitate to ask for it. The letter can be useful if an employee's rights are infringed upon during the layoff process. It also includes all the relevant information about the timeline and other details related to the layoff.
 •  Insurance Benefits
If your company provides insurance, don't forget to ask about the benefits you get from the insurance that has been paid so far and the details of when the benefits will be given. You can ask HR about this as soon as you get the news.
 •  Paid Time Off
To determine if your employer offers compensation for unused vacation or sick leave in the event of a layoff, it's important to research their policies. If such compensation is available, keeping track of the amount of unused time you have accrued is recommended so that it can be exchanged for monetary compensation.
 •  Severance Pay
Double-check that your severance pay aligns with the appropriate amount that you are entitled to receive.
Discover What You Will Require in The Future
What this means is that you now have to prepare for needs that were previously taken care of by your company. If you have been laid off, you will have to seek out alternative sources to cover those needs. It is important to prioritize taking care of necessities such as health insurance. Additionally, if available, you may be eligible to participate in government assistance programs designed to support individuals who have been laid off from their workplaces.
Time to Begin Searching for a New Job
As you work on organizing documents and other administrative tasks for your previous employment, it's a good idea to begin exploring new job opportunities. Update your resume and keep an eye out for openings that match your skills and interests on job portals like Jobstreet and LinkedIn. To increase your chances of getting noticed by recruiters, consider incorporating keywords that are frequently used in candidate searches. Add these keywords to your resume description to make it easier for recruiters to spot them. Additionally, take advantage of social media to connect with recruiters from various companies.
Make the most of your time, and try not to stress out. It's also beneficial to tap into your network and ask for referrals or job recommendations.
When faced with layoffs, finding a new job may seem daunting due to limited opportunities. However, there's no need to worry as Shortlyst is here to help. With its database that syncs with LinkedIn, you can connect with as many recruiters as you desire. Not only does Shortlyst function as hiring software, but it can also serve as your job hunting partner. Sign up now to take advantage of its services.