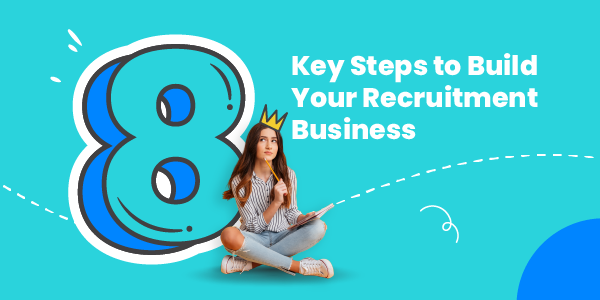 With the global recruitment industry being worth around US$521B and growing, it makes sense if you want to start your own recruitment business. Especially in this largely digital era, it is easier than ever to start your agency at home or at co-working spaces, without having to splurge on a big office space.
If you are keen to take on this exciting venture, here are 8 key steps you should consider to build your recruitment business.
Determine what type of recruitment business you want to build
There are several types of recruitment businesses that you can build, whether it is a technology-based or an executive search agency. The first thing you need to do is to decide which type of recruitment business you want to create. Examining the network and connections you have and the knowledge you excel might help you choose the right business for you.
Do a competitive analysis to understand your competition
In order to build a successful business you must offer services that stand out from your competitors. Understanding the market involves identifying similar companies that have the same recruitment mission as you. Have an in-depth understanding of the strengths and weaknesses of the competition, and identify ways your company can differentiate itself from the competitors. Constantly identifying these market gaps and offering differentiated services will continuously keep your company competitive in the cut-throat recruitment industry.
Outline all the costs your business will potentially incur
Setting up a recruitment agency does not require lots of front costs, however, you will need enough money to see you through the inevitably lean in the first few months. Foreseeable costs include:
Office Rent – Consider co-working spaces for a cost effective choice
Website development – Whether it is from a freelancer or agency, you should not spend too much to start
Insurance – You will need both public liability and corporate insurance
Equipment – Computers, mobile phones, and a broadband connection are important to have
Salary
Membership and subscription fees for video call platforms, recruitment software, etc.
Keep track of your budget and costs in a spreadsheet, and you can also get financial advice if needed.
You can opt to seek financial help or partnerships to back you up in building this venture into a more productive workforce.
Depending on where you are in the world, make sure you comply with the laws and regulations in your country

In most countries, recruitment is a highly regulated industry and you want to make sure that your business is compliant with the latest laws and regulations in the nation. You can look at the corresponding employment laws, such as the Employment Agencies Act in the UK or Employment Act in Singapore.
An internationally recognized data protection law that is important for you to follow is the GDPR – a regulation in EU law on data protection and privacy.

You may also consider hiring a legal counsel to prevent any potential legal issues in your recruitment business.
Set up your business targets
Setting goals and targets is important in any growing business. Identify the key OKRs you want to prioritize and set short term and long term targets to achieve. Constantly assess the company performance based on these targets and review the efficacy of your business model. Experiment and learn from existing best practices in the industry to optimize your business operations.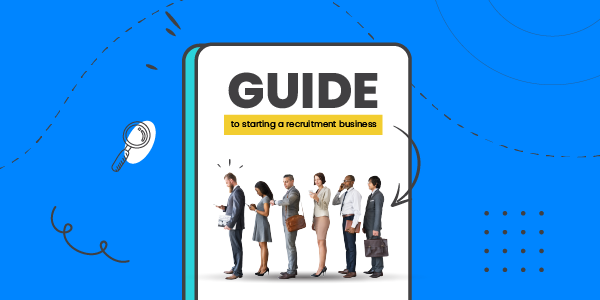 Set up your brand for different marketing channels
Generating awareness of your recruitment agency is crucial in establishing a successful company. Hence, it is important that the business explore as many marketing channels as possible.
A Professional Website
The company website will be the first impression many potential clients and candidates will have towards your company. Investing in a web designer or outsourcing the design to an agency are possible routes to take in order to get started. Furthermore, hiring an SEO specialist will also ensure that your website is optimized for generating awareness.
Online Networks
Presence on LinkedIn, Glassdoor and other employment based websites are important to capture the attention of prospective clients and candidates to your recruitment agency. These websites usually offer a premium service, allowing you to maximize your presence on their platform.
Digital Ads
Leverage digital ads to maximize your reach to potential clients. Many different options for digital ads can be explored, such as search engine marketing, banner advertising on professional websites, social media ads or even direct email marketing. With the advancement of these digital ad companies, you are able to target specific customer demographics ensuring your marketing budget is well spent.
In-Person Marketing
Being on the ground and interacting directly with your prospective clients is an important aspect of marketing. Attend industry conventions, join product launch events or any other corporate events to establish company presence amongst the corporate circuit.
Hire the right team
Just like any other business, starting a recruitment agency means hiring the right team. To build an effective recruitment team, you need to begin with hiring recruitment specialists and administrative assistants.
Recruitment Specialists
Depending on what type of recruitment agency you are in, you need to find recruiters with the corresponding skills and expertise. These recruitment specialists will be the ones sourcing for fit candidates and going through the recruitment process for your clients. You want to make sure that the recruiters you hire understand the career trajectory needed to excel in the industry and know the right resources or tools to find these fit candidates.

Administrative assistants
This role is crucial as it covers accounting, tax, and legal. There will be a lot of paperwork needed surrounding these areas in the business. You will be busy prospecting for new clients and you will need all the help you can get with the administrative work.
As your company grows, you might want to consider hiring more recruitment specialists and administrative assistants as you see fit. You may also consider hiring business development executives to help achieve your client acquisition targets.
Invest in the right tech tools
There are many technological tools out there that were built to empower recruitment teams such as yours. The two most common and important tools that you need to invest in are talent sourcing tools to build your contact books, and talent CRM to organize and manage qualified applicants.
Building your own database of talented professionals is critical, as it will help you win over clients against competitors. A talent sourcing tool that aggregates data from multiple online sources, supercharges you to reach candidates through different channels, and organizes your candidate communication will greatly help in database building and profile collection. 
To complement your vast database of qualified profiles, you will need an Applicant Tracking System (ATS) to help you keep track of all your candidate interviews and recruitment progress. You can even integrate your ATS to your talent sourcing tool, so that all shortlisted candidates can be synced with your ATS and you can manage your projects efficiently in one platform. 
Once you have everything ready, it's time to start your own recruitment agency. To find out how Shortlyst can support you and your team, book a demo now.