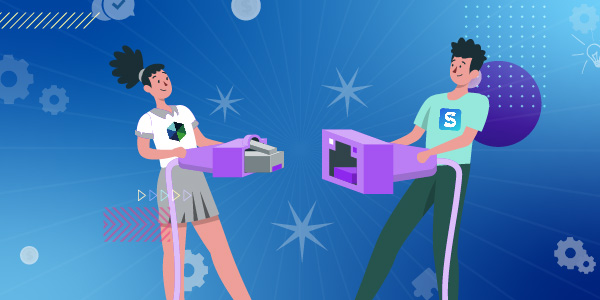 ATS or Applicant Tracking Systems help HRs save time by screening Resumes and candidate information to check if they match your organization's requirements. PCRecruiter is one such ATS that HR professionals all over the globe rely upon.
Here are some features that make it one of the most trustworthy options for HR professionals.
Efficient applicant management
Primarily used as an ATS (Applicant Tracking System), PCRecruiter helps companies manage their recruitment processes efficiently. You can centrally track and manage job postings, applications, and candidate data. It also has tools to manage candidate information effectively. You can also track candidate interactions, store resumes and profiles, and add comments.
Workflow Automation
PCRecruiter can help automate various recruitment workflows, saving time and effort. Some significant features include automated email responses, interview scheduling, candidate screening, and follow-up reminders.
Collaboration and Communication
PCRecruiter facilitates collaboration among recruiters, hiring managers, and other stakeholders involved in the hiring process. It allows for seamless communication, enables candidate information sharing, and promotes collaborative decision-making.
Reporting and Analytics
The reporting and analytics capabilities give you insight into how successful your hiring process is. You can generate reports on metrics such as candidate pipelines, time-to-fill, source effectiveness, and diversity statistics. These help you evaluate and improve your recruitment strategies.
Customization and Integration
PCRecruiter offers customization options to tailor the system according to an organization's needs and workflows. You can also integrate it with job boards, background screening services, and payroll systems making your recruitment ecosystem more streamlined.
Scalability
You can use PCRecruiter, whether you own a small business or a large corporate powerhouse. It can handle high volumes of data and users, thus it is suitable for companies with all types of recruitment requirements.
The Process
These are some reasons organizations have PCRecruiter embedded deeply within their hiring process. Hence, Shortlyst has enbled easy integration with it. You just need to follow these steps.
Step 1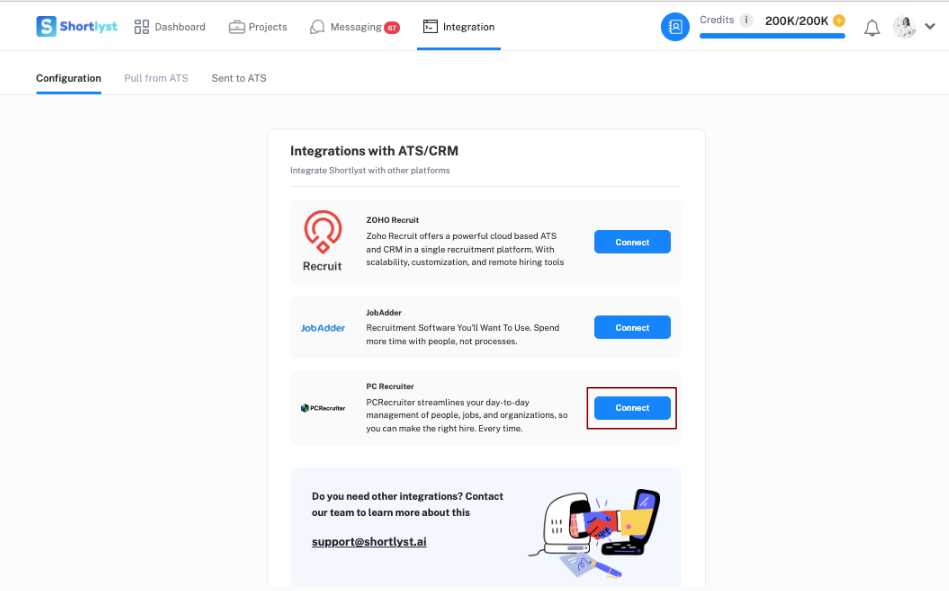 Navigate to the Integrations with ATS/CRM page on Shortlyst.
Find the PC Recruiter option and click on the Connect button beside it
Step 2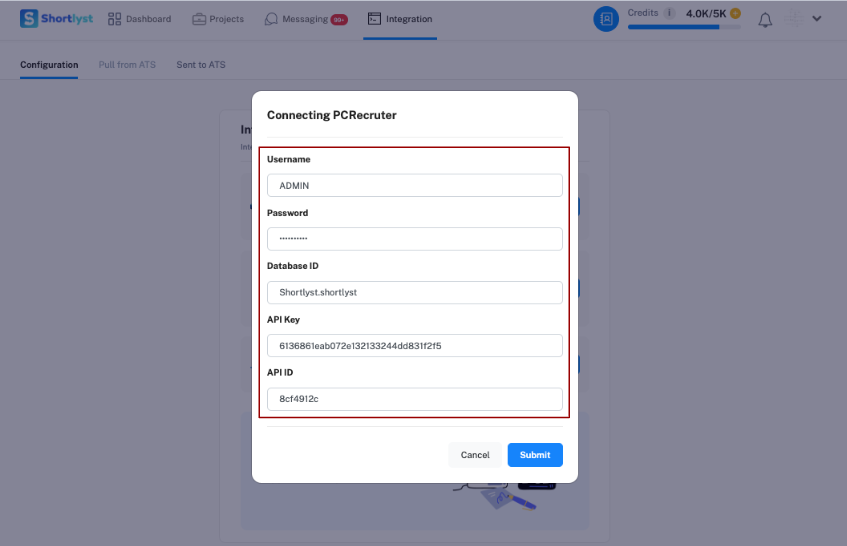 Shortlyst displays a 'Connect PC Recruiter form'.
Fill in all details: Username, Password, Database ID, API Key and API ID to proceed.
Step 3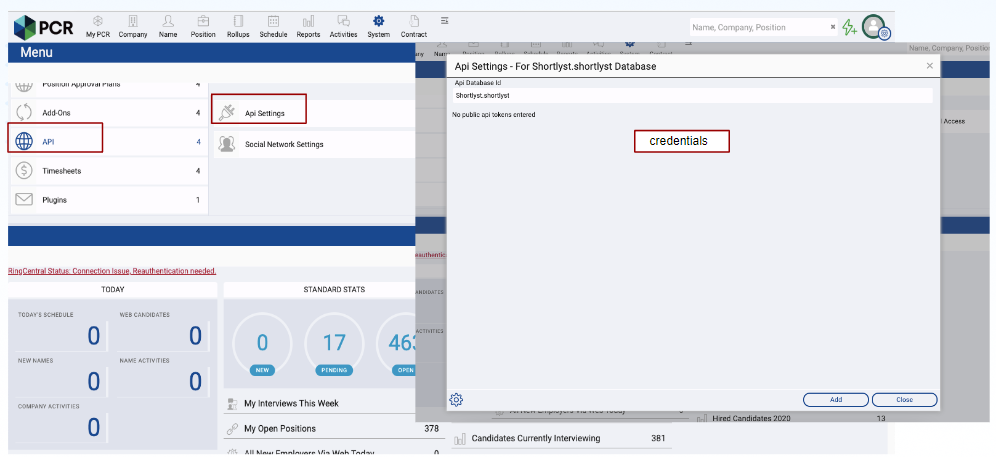 Follow these steps to find the database ID, API Key and API ID.
Go to PC Recruiter in your System.
Navigate to System, API, and API Settings. Select the Database and click on Add.
Step 4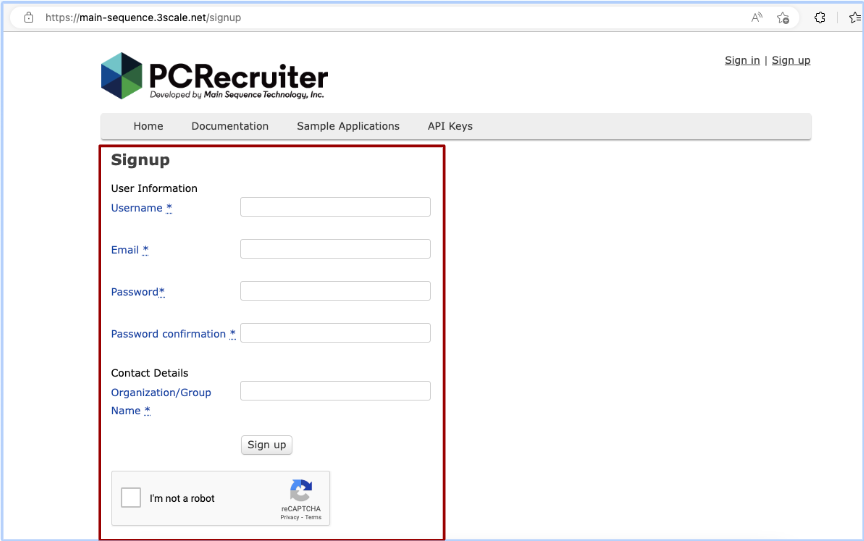 You would then need to find the API Key and API ID.
If you do not have an account, go to to https://main-sequence.3scale.net/signup, enter the appropriate information, and complete the sign-up process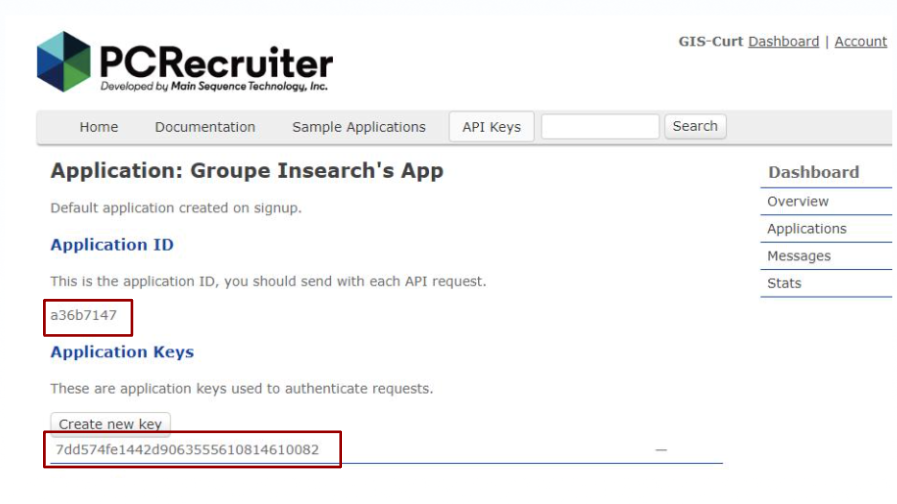 If you have an account, sign in to https://main-sequence.3scale.net/login, click on API Keys section, and you will find the AppID and API Key
Step 5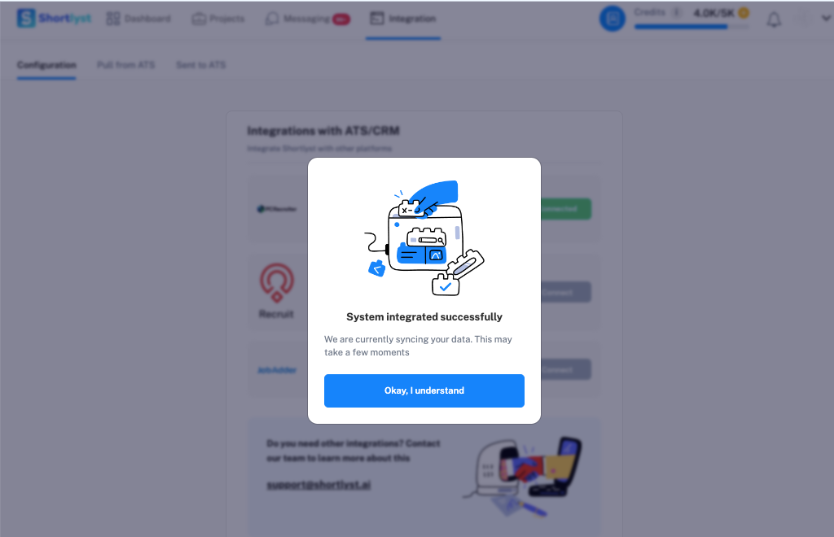 Finally, you can see a message that the System has been successfully integrated.
All relevant data from PC Recruiter is now linked with Shortlyst, and you can start using them for your recruitment.