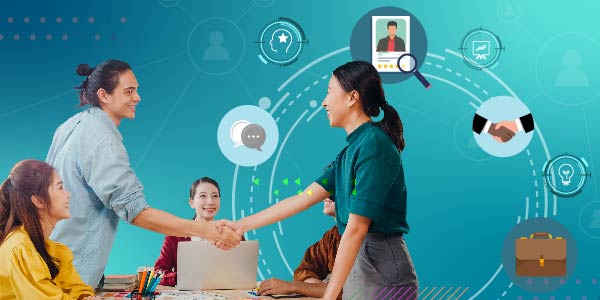 Today, organizations operate across multiple cultures and geographies. Thus, cultural fit is essential to hiring the right person in addition to skills and qualifications. Recruiting candidates aligned with your company's values, beliefs, and behavior can boost your team's productivity and morale.
Don't believe us? As per a Glassdoor survey, 77% of employees believe that the company's culture directly affects job satisfaction, and about 56% of job seekers said that the company culture is an important criterion for them when looking for a job.
So, how do you assess whether the candidates are a right fit for your organization? By asking the right questions.
Cultural interview questions help you assess the candidate's values. Here are more details about these questions that can help you hire the 'perfect' candidate.
Here are the most commonly asked culture fit interview questions you can find in interviews across levels. You can add to the list based on your company's requirements.
What motivates you to work?
What are your passions?
What do you think about teamwork?
What's your ideal work environment?
How do you handle conflicts with colleagues?
How do you handle feedback from your superiors?
Analyzing the response can help you understand the candidate's motivation levels, working style, problem-solving abilities, team-working, and communication skills. These questions also give you an idea of how candidates handle things and how well they could fit into the new role.
Benefits of Cultural Interview Questions
As discussed above, asking the right questions during a cultural interview can help integrate them into the organization and have a range of benefits for the company.
Improved retention: Candidates who align with your organization's culture will likely stay with you comparatively longer. This also positively affects your hiring cost, time-to-hire, and downtime.
Better productivity: It has been observed that people who understand and fit in with the organization's culture are more productive. This, in turn, leads to better collaboration and subsequently, better productivity.
Competitive advantage: An excellent cultural fit translates to faster settling in and being more in sync with the organization's aims. When your workforce is aligned with your culture, it gives you a substantial advantage over your competition.
Positive work environment: People that are sync with the organizational culture get along well with others as they share their beliefs and values. This makes for a positive work environment.
Thus, hiring candidates who align with the organization's culture can significantly impact team productivity, morale, and retention rates.
Shortlyst.ai has been helping to make recruiters' jobs easy for them. With our experience in understanding the ins and outs of recruitment, we have realized the importance of analyzing the cultural fit of candidates. Our AI-powered recruitment platform comes with smart filters and can analyze the potential candidates' behavior and communication patterns to provide you with insights into their cultural fit. Use our recruitment suite to streamline the hiring process and find candidates who align with your organization's culture, values, and behaviors.